Within the framework of the II European Games, the Belarusian golf community decided to join sports activities and, for the first time, to invite the Lithuanian golf team to take part in a friendly competition here, in Minsk.
From 29 to 30 June, our club hosted the largest tournament between the local golf team and the Lithuanian one. The players competed in a two-day tournament for the opportunity to become a winning team and get a challenge cup.
Thus, 63 golfers took part in the tournament, 13 of them were women. The Lithuanian team was represented by 30 strongest athletes. In terms of the HCP index, the advantage was on their side. The match play was held in two main categories - team category, given the amount of holes won by 30 golfers on each side and the HCP index (the winner is determined according to the results of the contest) and the country's national team category, given 6 best golfers on each side (4 men and 2 women) excluding HCP index to the net account.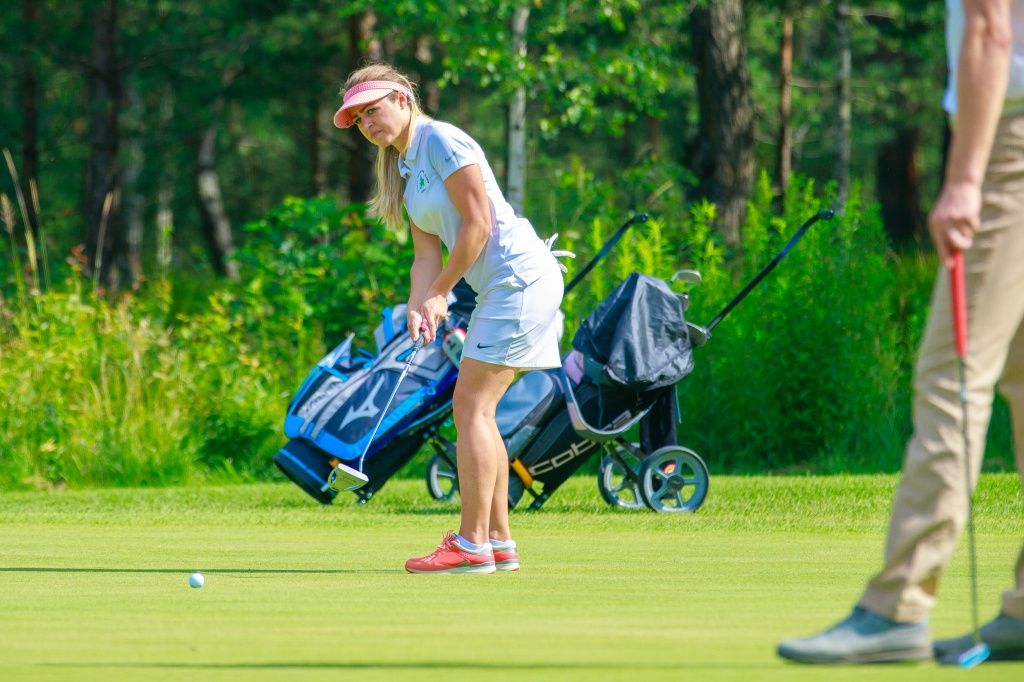 The first day of the tournament was held in the four-ball format. All participants were divided into twosomes, the game was held on the principle of "twosome versus twosome." In the team category, a clear advantage was on the side of Belarus, 117 vs. 72 holes. In the country's national team category, Lithuanian golfers won with a difference of 31 vs. 8 holes.
The second day of the tournament was held in the Scramble format. All team members tee off on each hole and then decided which tee shot they liked the best and marked the spot with a tee or ball marker. The other team members picked up their balls and placed them within one club length of the marked spot. Each team member hit their next shot from the chosen spot. This procedure is followed on every shot for the remainder of the hole, including putts. Belarus outstripped the Lithuanian team with a difference of 89 vs. 78 holes.
As a result, the team of Belarus won 206 vs. 150 or a 56-hole difference. In the National team category, Lithuanians beat Belarusian golfers with 57 vs. 12, or a 45-hole difference.
Congratulations to Belarusian golfers and many thanks to our Lithuanian guests for visiting us.
Match Play "Belarus vs. Lithuania" Winners:
Team Category Winner - Belarus
Belarus - 117 + 89 - 206
Lithuania - 72 + 78 - 150
A 56-hole Difference
National Team Category Winner - Lithuania
Belarus - Andrey Yaruk, Alexander Maximchik, Georgiy Prigozhy, Andrey Mezin, Zhanna Maximchik, Natalya Reutskaya – 12 holes
Lithuania - Mindaugas Markevicius, Paulius Baltramonaitis, Mindaugas Vaicius, Giedrius Mackelis, Gile Bite Starkute, Indre Juozaityte – 57 holes
A 45-hole Difference
Special Categories:
Men's Longest Drive - Mindaugas Vaicius
Women's Longest Drive - Gile Bite Starkute
Men's Closest to the Pin - Igor Mists 3.73 meters
Women's Closest to the Pin - Gile Bite Starkute 4.55 meters
The best twosome of Belarus: Andrei Khaletsky, Anatoly Dvornikov - 23 holes
The best twosome of Lithuania: Gile Bite Starkute, Indre Juozaityte - 16 holes
Special gratitude to Alexey Grakov